[Opinion column written by Wayne Caines]
As the only power supplier in Bermuda, BELCO will take every possible step not only in terms of providing safe and reliable electricity, but also to minimize the impact of the business on the environment and the community. From the perspective of taking action, we take responsibility for the community seriously.
Unfortunately, after the engine restarted at the North Power Plant on July 11, an unexpected accident occurred, causing soot to collide primarily with nearby facilities in the St. John's Road area.
BELCO Occupational Health and Safety and Environment [OHSE] The team immediately began investigating the incident, visiting homes and businesses near the factory to collect samples and confirming the scope of the fallout event.
BELCO is fully responsible for fallout events and addresses incidents as a priority. Members of the OHSE team will continue to involve the owners of the affected properties until they have fully addressed all the impacts of fallout according to repair best practices.
In the light of recent fallout incidents, it is important to outline some facts about air quality around the BELCO plant. This year, BELCO has continuously demonstrated compliance with the Clean Air Act and regulations recorded at Pembroke's two existing ambient air quality measurement sites.
Results for nitrogen dioxide, sulfur dioxide, and particulate matter far fall below the contractual obligations outlined in BELCO's license. The operation and maintenance of the two BELCO ambient air quality measurement sites is overseen by BELCO, presenting an analysis to the Department of Environment and Natural Resources. [DENR] And environmental authorities.
BELCO's OHSE team constantly monitors the impact of plants across adjacent neighborhoods and Bermuda and works closely with DENR to ensure that emissions are within the required regulatory limits.
BELCO reports on various certifications and compliances and meets the highest international standards for ISO 14001 certified environmental management systems. BELCO also complies with the Clean Air Act of 1991 and the regulations of 1993. Quarterly, BELCO reports data from all air quality monitoring programs to government environmental authorities, which is publicly available. The government has indicated its intention to tighten environmental emissions regulations, welcomes this change and looks forward to extending it to other sources of air pollution from vehicles. We have always met statutory standards, and we will continue to do so.
In terms of water quality, soot-related pollutants from BELCO and other combustion processes do not exceed drinking water standards applicable to the United States, the United Kingdom, and the World Health Organization in any of the water samples taken. ..
Department of Environment and Natural Resources [DENR] An independent survey of water quality using samples from water tanks at nearby facilities, published in March 2021, found traces of pollution, but levels were within international standards for drinking water.
The test also sampled water tank deposits and found the pollutants dioxin and furan produced by the combustion engine. However, the deposits found in tanks near BELCO were similar to those found in control samples taken from elsewhere on the island. The report states: "This shows that BELCO emissions are not the major source of dioxins and furans in sediments collected in water tanks near BELCO." The report reports pollutants found in tanks. He concluded that his fingerprints were similar to those produced by vehicle exhaust. The report added: "This suggests that soot particles from Bermuda road vehicles are the main source of dioxins and furans in the water tank sediments collected for this study."
The only parameters that did not pass the drinking water standard in the test were total coliform and coliform levels in several sampled tanks, which are indicators of animal excrement contamination.
Since the commissioning of the North Power Plant in April 2020, BELCO has taken a step-by-step approach to increasing combustion pressure to address the occurrence of fallouts from the NPS. In Phase 1, the project was 100% complete with shims installed on four NPS engines. Phase 2 included retrofitting the piston crown and optimizing it for the fuel type, which was completed by the end of January on all four engines. These are short-term fixes, and with these upgrades, the efficiency of the plant has clearly improved. In the long run, we plan to continue greening the fleet and include offshore wind as an important element of our energy mix.
Over the past few years, BELCO has repeatedly engaged with local communities through town hall meetings, face-to-face meetings with real estate owners, letters, online forums, etc., promising to neighboring communities to address their impact on real estate, and in the future. Will continue. Monitor and coordinate operations until the plant operates at optimal efficiency.
The BELCO team is also working to address asset impact complaints on a case-by-case basis through roof painting and water filtration systems. If it is clear that the property has been affected by the operation of BELCO, mitigation measures will be handled in accordance with permanent policies and procedures.
BELCO is committed to achieving net zero by 2050 and is exploring alternative renewable energy generation that takes advantage of the potential for wind, solar and heavy oil to natural gas transitions. The North Power Plant plan intended to use natural gas as fuel, but the IRP process eliminated natural gas as a fuel source. BELCO looks forward to continuing dialogue and engagement with the community as it continues to build the future of Bermuda's clean and safe renewable energy.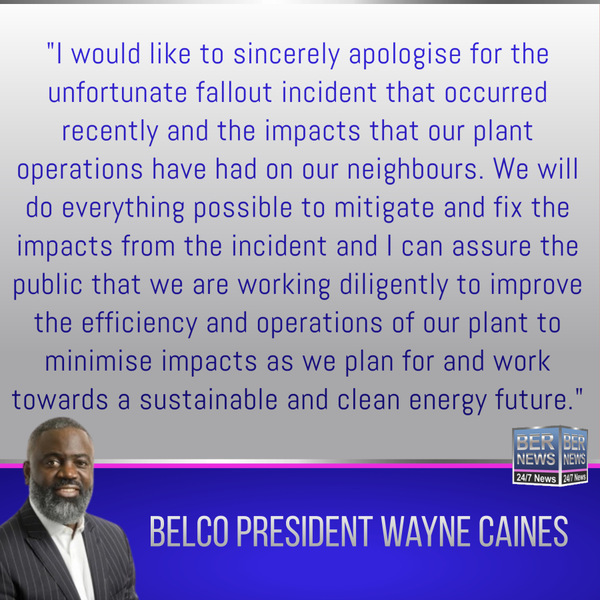 And we have a plan. We promise to be a renewable energy company, but this takes time and investment. Hundreds of millions of dollars invested. We are also working on a plan to put an additional burden on our customers without raising electricity prices.
I have never met a team with such professionalism, dedication, expertise, and passion in my career everywhere I worked. To work as a member of the BELCO family is to know it.
My wish for Bermuda and our valued customers is to have patience. BELCO's 250 workers come to work every day with two top priorities: improving the communities in which we operate and providing safe and reliable electricity.
We have been aware of the operational implications our neighbors are feeling since the North Power Plant test run, but we are always responsible and will continue to fix the problems we have caused. And we are always aiming for better. We have reached the future of renewable energy and everyone on our journey needs to be a stakeholder and partner.
We sincerely apologize for the recent unfortunate fallout accident and the impact of factory operations on neighboring countries. We will do everything possible to mitigate and correct the effects of the accident. As we plan and work towards the future of sustainable clean energy, we can assure the public that we are working diligently to improve the efficiency and operation of our plants to minimize their impact. ..
-Wayne Cainz, President-Bermuda Electric Light Company Limited
Read more about
Category: All, business, technology