Government media has launched another online talk show. This time it's a weekly Fintech Friday podcast "aimed to demystify fintech, its core concepts, and their importance to Bermuda."
A government spokesperson said, "The Ministry of Economy, Labor and Welfare is pleased to announce the launch of our weekly Fintech Friday Podcast. [EDD]The podcast aims to demystify fintech, its core concepts, and their importance to Bermuda.
"It is now well known that fintech is growing rapidly in Bermuda.
"Terms like 'cryptocurrency' and 'blockchain' are commonly used as part of everyday vocabulary. Therefore, it is becoming increasingly important for Bermudians to be well-informed and knowledgeable about Fintech and the many ways it benefits the island and the local people.
"For this reason, EDD launched this new podcast series titled 'Fintech Fridays' on July 22nd, presented by the Premiers Office of Fintech. The first episode introduced the Office of Fintech team and gave an overview of the island's fintech sector. The second was an interview with Karee Lunda, the founder of Under de Wave, in which she tackled the theme of non-fungible tokens. [NFTs].
"Episodes of Fintech Fridays will air weekly on various platforms such as Spotify, Anchor and YouTube. The podcast will feature guest talks on various facets of demystifying Fintech, NFTs, cryptocurrencies and more."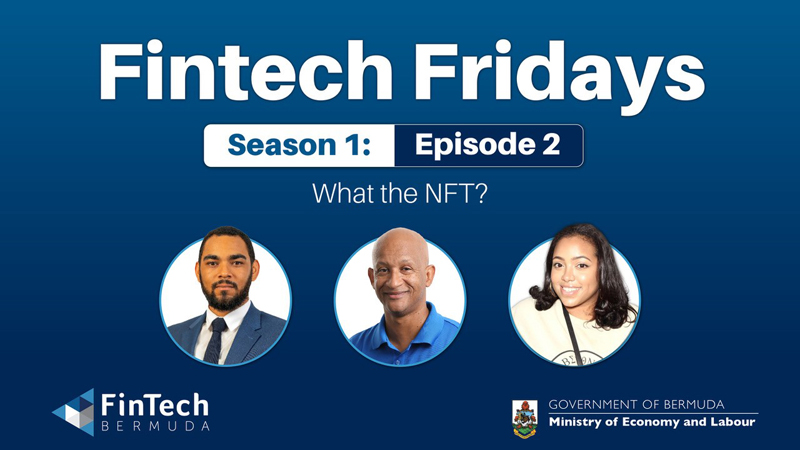 Economy and Labor Minister Jason Hayward said: The mission of the Economic Development Authority is to promote sustainable growth, development and diversification of the Bermuda economy.
"That's why Fintech Fridays helps ensure an informed and connected workforce. This podcast introduces Fintech fundamentals and local and global financial services in an easy-going and informative way. It is intended to help listeners understand the transformative impact."
"Watch the podcast and leave comments and reviews."

read more about
Category: Everything, Technology