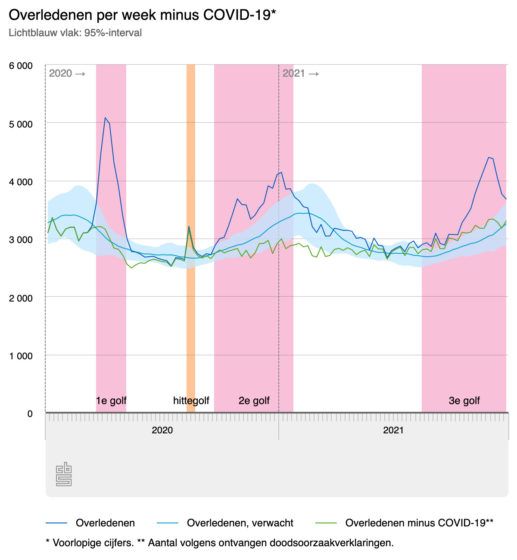 CBS of the National Bureau of Statistics and RIVM of the Institute for Public Health have not yet clarified the reasons for the large number of over-deaths that are unlikely to be caused by the virus during the third coronavirus wave. ..
According to the cause of death analysis, the number of deaths from the coronavirus in 2020 and 2021 was about 40,000, which is equivalent to most of the over-deaths in the first two waves. However, the third wave killed 11,300 more people than expected, of which only 7,900 were infected with the coronavirus.
The cause of death in the remaining 3,400 cases is unknown, the largest in the 65-80 category, but spans all age groups. Nursing home residents accounted for 1,000 of the unexplained deaths.
The investigation was conducted at the request of a member of parliament. This is because the number of excess deaths far exceeded the number of people who died from the coronavirus in the second half of the year.
According to RIVM, this result shows that vaccination provided excellent protection against death from coronavirus and did not increase the risk of death from other causes.
Of the 166,000 death certificates studied by researchers, only 162 cited vaccination as a possible factor, but did not provide enough details to draw conclusions, RIVM said.
At the same time, further research is needed to determine the cause of the large number of over-deaths in the second half of 2021.
Hypotheses were made that treatment of some illnesses was delayed due to the hospital being full, that treatment was not available, and that there was pressure on health care workers to operate.
Thank you for donating to DutchNews.nl
The DutchNews.nl team would like to thank all the generous readers for their donations over the last few weeks. Your financial support has helped extend the scope of the coronavirus crisis in the evenings and weekends to ensure you are on the lookout for the latest developments.
DutchNews.nl Is free for 14 years, but without the financial support of our readers, we cannot provide fair and accurate news and features about everything in the Netherlands. Your contribution makes this possible.
If you haven't donated yet but want to donate,
You can do so through Ideal, Credit Card or Paypal.