The Macau government today (Monday) launched a 45-day public consultation on amending the National Security Law, pledging that safeguarding national security is the way forward for Macau's economic development.
Public consultations will run from August 22 to October 5, but the administration expects a consultation review report to be completed by the end of October, with the bill finalized and submitted to the Legislative Assembly for consideration in early November. I hope that
"
[Macau] The SAR government hopes the amendments will remedy deficiencies in current national security legal tools. [the
national security law of Macau] Can be the same standard as domestic related regulations [Mainland China] Security Secretary Wong Siow-Chak said today at a press conference on the talks.
Current National Security Law of the City – Officially, according to the Portuguese version, it is called Law Concerning Defense of National Security –First implemented in February 2009, it is in line with Article 23 of the Basic Law, the city's mini-constitution on national security based on the principle of "one country, two systems". The law criminalizes acts such as treason, secession, sedition, subversion, theft of state secrets, the activity of foreign political groups in cities, and the establishment of ties with local groups.
In the current proposal submitted today by the Macau government, there is a new offense of "inciting or supporting sedition", and the responsibility of individuals for inciting or supporting others in relation to acts of treason, sedition, secession and secession. will incur Capsize.
The consultation document also states that the crime of "subversion of the Chinese central government" will be replaced with the crime of "subversion of state political power," covering not only violent but also "non-violent means."
At a press conference, Mr Wong said current law clearly clarifies violent or other serious illegal means that may endanger national security, such as arson, disease spread, disruption of public communication operations and infrastructure. said to have said.
"However, we cannot rule out the possibility that individuals may use other non-violent means not covered by current law to commit crimes, such as cybersecurity," he said. For example, during "riot scenes" in Hong Kong in 2019, some blocked government offices, the Legislative Council and public roads in what was seen as non-violent means, he added.
The secretary was referring to a series of protests in the nearby SAR between 2019 and 2020. Anti-government protests, which were initially peaceful but often turned violent, have evolved into widespread calls for universal suffrage, with some groups calling for Western sanctions against Hong Kong and China, others group advocated the city's self-determination. Foreign intervention led to the enforcement of Hong Kong's national security law.
"No development without national security"
Asked at a press conference today whether Macau authorities were concerned about a decline in foreign investment in the city following the amendments to the Macau National Security Law, Wong emphasized: No economic development. "
He again noted that Hong Kong's "turmoil and turmoil" in 2019 had a severe negative impact on the lives and economies of the Asian financial center. "After Hong Kong's national security law came into force, stability was restored to Hong Kong," he added.
"The country's national security, and thus the security and stability of Macau, are the key prerequisites for the Macau economy to continue moving forward," he added.
Regarding the scope of coverage of the revised Macau National Security Law, the government has proposed that individuals (including residents and non-residents) who violate the law outside Macau should also be held criminally responsible.
Currently, only "overseas political organizations or entities" and "Macau political entities or entities" have established relationships with overseas parties and are responsible for offenses against national security laws. However, the proposed amendments state that individuals, organizations or groups within or outside Macau are responsible.
Macau had more than 8,000 active associations but only one was registered as a political organization, Wong said today, adding that changes were needed covering both individuals and organizations. justify
Not retroactive
Officials also stressed at the press conference that the revised law, coupled with the spirit and tradition of the local legal system, is not retroactive.
Hong Kong's national security law also cannot be traced back, but there have been cases in nearby special administrative regions where police have opened investigations into acts committed before the law came into force.
When asked whether this would take place in Macau and whether Macau authorities would, for example, launch an investigation into candidates who were disqualified in last year's legislative assembly elections, Wong said today that the implementation of the national security law and only answered about qualifications. The number of candidates for parliamentary elections is "two different topics."
The Macau government last year banned a total of 21 candidates from being elected to the Legislative Assembly, including all candidates deemed to be from the pro-democracy camp. Pledge allegiance to Macao and the country and uphold the Basic Law.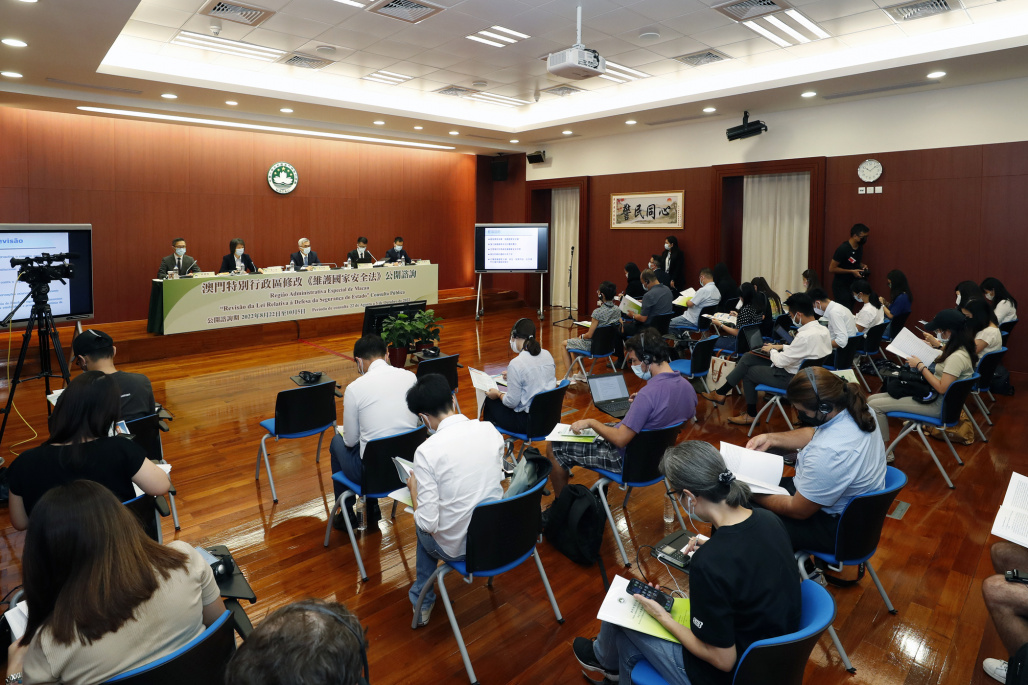 The consultation document also said several new measures would be introduced in the future to assist law enforcement agencies in national security investigations. For example, subject to regular investigation by the Public Prosecutor's Office, law enforcement agencies may intercept your communications, including requesting relevant information and data from your telecommunications service provider.
Law enforcement agencies can also require Macau organizations and individuals to provide information in investigations related to national security laws, although this does not apply to entities that enjoy diplomatic privileges or immunities. Hmm.
Law enforcement can also impose short-term temporary restrictions to bar suspects from leaving the city while investigations are conducted. Wong said at a press conference that the temporary restrictions will last for three days and can be renewed for up to two days.
state secret
Regarding theft of state secrets, the consultation document suggests that this crime applies not only to individuals who take advantage of their professions and duties in the future, but also to those who cause harm.
Asked today how the government defines "state secrets," Mr Wong said the details would be defined in another secrecy law proposed by the government in the future.
If judges in national security cases become confused about what constitutes a "national secret," they can seek relevant information and guidelines from the central government through the Macau government, he added.
Most national security trials are open to the public, and only some are held in partial or complete privacy as judges decide on state secrets, Wong said.
Officials also said the revised National Security Law, complemented by criminal law, civil law, telecommunications interception and protection law, among others, would serve as the main backbone of local legal tools on the matter.
At the Revised Law Council, a total of 8 public hearings, 5 in specific fields and 3 in general, are scheduled to be held. is scheduled for ).