Bermuda Business Development Agency [BDA]Will broadcast a webinar on Bermuda's ESG maturity at 12:00 pm ADT on Tuesday, July 19th, in collaboration with Oxbow Partners.
This latest edition of the Bermuda Angle Webinar Series – entitled "Bermuda's ESG Experience and Its Global Impact" [Re]Insurance Industry – Includes a referral from Deputy Prime Minister Walter Robin of Bermuda.
Helen Cart, BDA's Business Development Manager, said: "We are very fortunate to have the Deputy Prime Minister of Bermuda open a webinar that provides important insights into Bermuda's climate change mitigation strategy.
"Following the Deputy Prime Minister's remarks, Miqdaad Versi, ESG Head of Oxbow Partners in the United Kingdom, has a panel of ESG experts including Harriet James, ESG Strategy, RenaissanceRe, Andrew MacFarlane, Climate Manager, AXA XL, Shannon Sun and Head. Moderate. AIGRe, Chairman of the Corporate Development Division and Innovation Committee.
"Important topics discussed by panelists include talks and meaningful actions. Potential barriers to ready-to-use ESG data / indicators. And how the history of Bermuda's innovation is new. Will it appear in climate risk financial products and sectors? "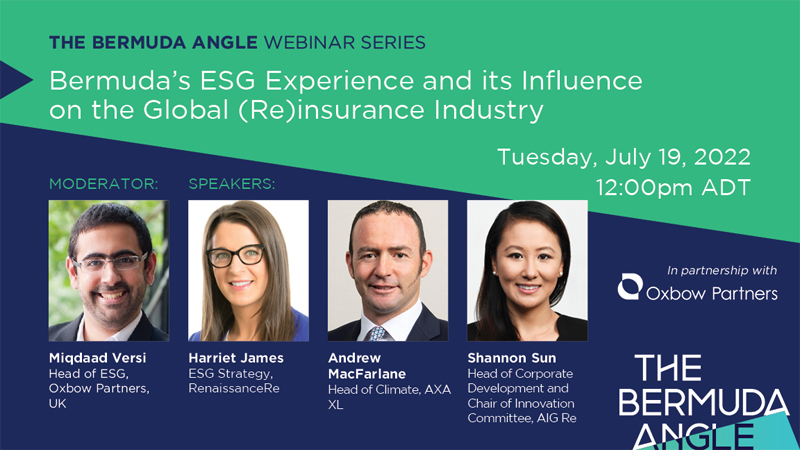 Versi also provides high-level findings for the Bermuda ESG – The Rising Tide report. The report, presented at the BDA's first Bermuda Climate Summit from May 23 to 24, includes interviews with 21 people. [re]Insurance companies, ILS funds and other industry leaders.
Click here to sign up for BDA's latest ESG webinar in partnership with Oxbow Partners, or click here to download a copy of the ESG in Bermuda report.
Read more about
Category: All, business